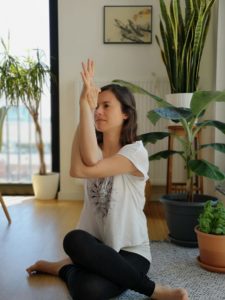 I started practicing yoga in 2009 while working as a researcher in biology.
Yoga was a revelation to me, since the first time on the mat I felt the direct and extraordinary connection between the body and the mental state. In 2012, during a stressful period of my life, I decided to deepen my knowledge and practice of yoga and I attended my first teachers training, with Yogalife, Bihar tradition. Since then, more trainings in a variety of yoga fields have followed, and my personal and professional life have changed.
In 2016 I have studied with the physician Timothy McCall, the basis of yoga therapy, Yoga as medicine level I. Doctor McCall's approach to yoga therapy included many aspects of Ayurveda, the traditional Indian medicine. I was immediately hooked by Ayurveda and decided that I wanted to learn more about it. As for the yoga, it was love at first practice. I have hence enrolled in the program, based on the teachings of Harish Johari, to become an Ayurveda therapist at the school Yoga and Ayurveda health. Ayurveda's philosophy is complementary to that of yoga. It has made my practice and lifestyle more complete. I am now more aware of what works well for me and what does not. I try to respect my limits and value my strengths. I feel closer to my deep nature.
I teach yoga and give ayurvedic consultations and treatments because I want to share the many benefits of these two sisters philosophies/sciences physically and mentally, with as many people as possible. Yoga and Ayurveda give us the tools to listen to our body and our needs, and to discover and accept ourselves. I am truly convinced that the only place where we can find true peace and happiness is within us.
The more I learn, the more I realize that it would take several lives to know everything! I stay humble and full of gratitude towards my teachers while continuing to grow my knowledge and to prepare for further qualifications.
I teach in Italian, English, French, and Dutch.
Trainings and main workshops:
2016-2021 Ayurveda Therapist- Yoga and Ayurveda health – John Marchand & team
2020 Postnatal Yoga with Johanne Charlebois
2018-2019 A mother's wellbeing with yoga with Lynn Murphy
2019-2020 Yoga Sutras Patanjali with Shantala Sriramaiah
2018 Infinite Vinyasa (20 hrs)- Vivi Letsou
2017 Relax and Restore Teachers Training with Adelene Cheong (36 hours)
2017 Yoga anatomy (20 hrs)- Laura Antelmi
2016 Yoga as Medicine level I, Teachers Training (30 hrs) with Timothy Mc Call
2015 Back Therapy Teachers training (20 hours) with François Raoult
2015 Prenatal & Postpartum, Teachers training (20 hours) with Carla Anselm
2013-2014 Children's yoga Teachers training (95 hours) -Yogabeez-Bryony Duckitt
2012-2013 Hatha Yoga (200 hours)- Yogalife foundation Ghent