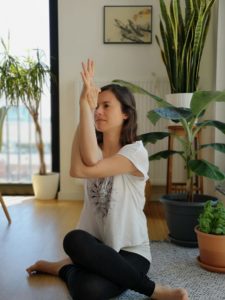 I began practising yoga in 2009 while working as a Biology researcher.
Yoga was a revelation to me as, from my first time on the mat, I felt a direct and extraordinary connection between my body and mental state. In 2012, during a stressful period in my life, I decided to deepen my knowledge and practice of yoga and attended my first teacher training, Yogalife. Since then both my personal and professional lives have changed.
Fascinated by young human beings and the powerful benefits of yoga upon them, I then deepened my studies with Yogabeez and am now a certified yoga teacher for children and teenagers.
My pregnancy in 2013 made me understand how my body was changing, the benefits of yoga in its entirety, and I trained with Carla Anselm to teach yoga prenatal and postpartum.
I am an active person, I like to practice and teach Hatha yoga in a dynamic way, but I am also aware of the importance of slowing down and consciously resting to live life to the full. That's why I love practising Restorative yoga and in 2017 I became a Restorative yoga teacher.
The more I learn, the more I realise that it would take several lives to know everything! I stay humble and full of gratitude towards my teachers, while continuing to develop my knowledge and to prepare for further qualifications.
I teach yoga because I would like to share the many benefits of its practice, physically and mentally, with as many people as possible. Yoga gives all of us the tools to listen to our bodies, our needs, and to discover and accept ourselves. The more I study and practice yoga, the more I am convinced that the only place where we can find true peace and happiness is within us.
So please join me and discover your unique and beautiful self.